Achieving Functional Safety in Factory Automation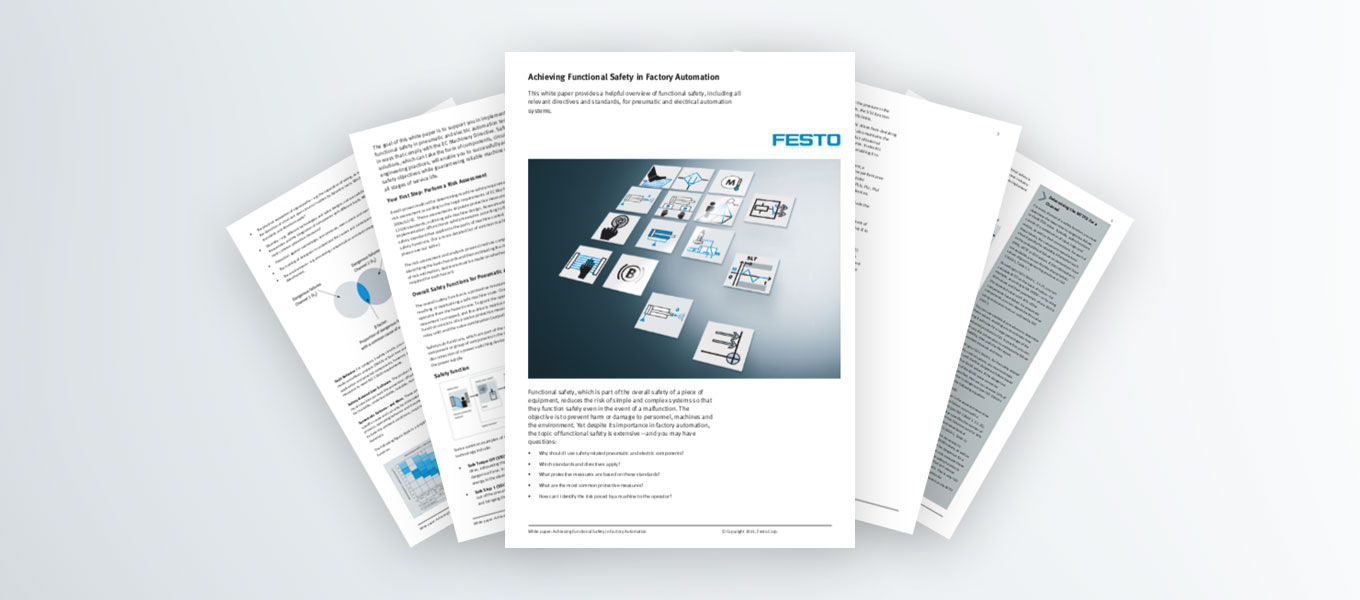 Functional safety reduces the risk of simple and complex systems so that they function safely even in the event of a malfunction. The objective is to prevent harm or damage to personnel, machines and the environment. Yet despite its importance in factory automation, the topic of functional safety is extensive—and you may have questions:
Why should I use safety-related pneumatic and electric components?
Which standards and directives apply?
What protective measures are based on these standards?
What are the most common protective measures?
How can I identify the risk posed by a machine to the operator?
The goal of our latest white paper is to support you in implementing functional safety in pneumatic and electric automation technology in ways that comply with the EC Machinery Directive. Safety-related solutions, which can take the form of components, circuits or engineering practices, will enable you to successfully achieve your safety objectives while guaranteeing reliable machine operation in all stages of service life.
One way to determine machine safety requirements is to carry out a risk assessment according to the legal requirements of EC Machinery Directive 2006/42/EC. These assessments stipulate protective measures according to ISO 12100 standards, outlining safe machine design. Based on the risk assessment, a Performance Level (PL) is assigned to each part of the machine. Machine performance levels specify the ability of safety circuits to execute a safety function under foreseeable conditions.
Learn More in Our New White Paper
Engineering for functional safety is one of the most important requirements in factory automation. That's why at Festo, we offer products and solutions that enable you to implement functionally safe, cost-effective engineering as easily as possible.
To learn more, download our latest white paper.