Air Preparation Solutions To Keep Your Machines Running Smoothly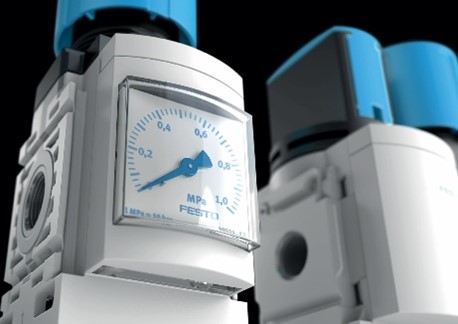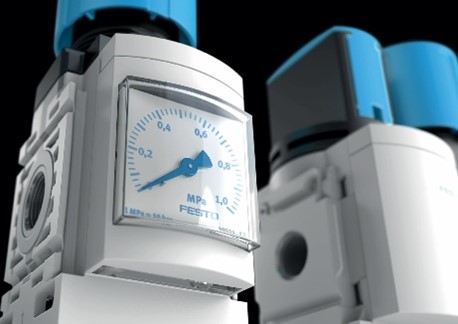 Maintaining a clean compressed air supply — one without particles, water or oil — goes a long way toward avoiding malfunctions in your pneumatic equipment, reducing machine failure and minimizing downtime. To help you maximize your process reliability and machine availability, consider the following technologies as part of your air preparation system, ensuring your pneumatic components receive only the cleanest air.
MS-Basic Pneumatic Service Units
Our pneumatic service units are the centerpiece of our air preparation solutions. The MS-Basic line, for example, filters compressor oil, condensate and dirt particles from the air. Able to perform the most important technical tasks necessary for proper compressed air preparation, these units may consist of pressure regulators, filter regulators, electric ON/OFF and soft-start valves, as well as manual ON/OFF valves with filter/regulator combinations.
Powerful, lightweight MS-Basic pressure and filter regulators have a high flow rate up to 6,000 liters per minute, while the use of polymer materials reduces their weight by up to 30 percent compared to metal units. For the filter regulator, we've integrated the filter in the bowl — a design that makes changing the filters easy and saves installation space. In addition:
A manual or normally closed, automatic condensate drain improves process reliability while protecting the units from contamination.
An electric ON/OFF valve is available as a soft-start/quick-exhaust valve. Soft-start units safely and slowly build working pressure at an adjustable rate until it reaches 50 percent of the set pressure before switching to the full set pressure.

Compressed Air Fittings and Tubing
Though oftentimes overlooked, the tubing and fittings are important parts of air preparation systems like the MS series. Why? Tubing failure can cause costly downtime for the equipment the tubing is attached to, leading to production losses and extensive engineering effort to find and correct the cause of failure. Some common causes of failure include hydrolysis, microbial damage, heat and pressure spikes, degradation due to UV rays, chemical interactions and mechanical damage.
To minimize these risks, it's important to choose the right tubing and fittings for air preparation systems. For example, our polyurethane (PUN-H) tubing and QS series push-in fittings are a perfect combination, ensuring optimal, trouble-free operation of your systems. These components resist hydrolysis and can be used in environments with high moisture levels.
Other benefits include:
Reliable compressed air supply. PUN-H tubing is suitable for standard applications requiring compressed air, including areas that make contact with water up to 50°C. Thanks to their use of a modified material, the tubing won't crack from hydrolysis.
Highly flexible. Kink-resistant PUN-H tubes are easy to install. They can also resist hydrolysis and microbes, making them a perfect choice for the food industry. Their all-black option is also UV-resistant and can be used outdoors.
Short installation time. Connecting and releasing QS push-in fittings is easy, thanks to their proven sealing-and-release design and standard Festo quality.
Transparency for greater safety. Transparent tubing options make it easy to detect particles, moisture and oil, minimizing potential risks to your system.
To learn more about these and other air preparation solutions, check out our website.