How Our Customer Solutions Team Can Make You More Productive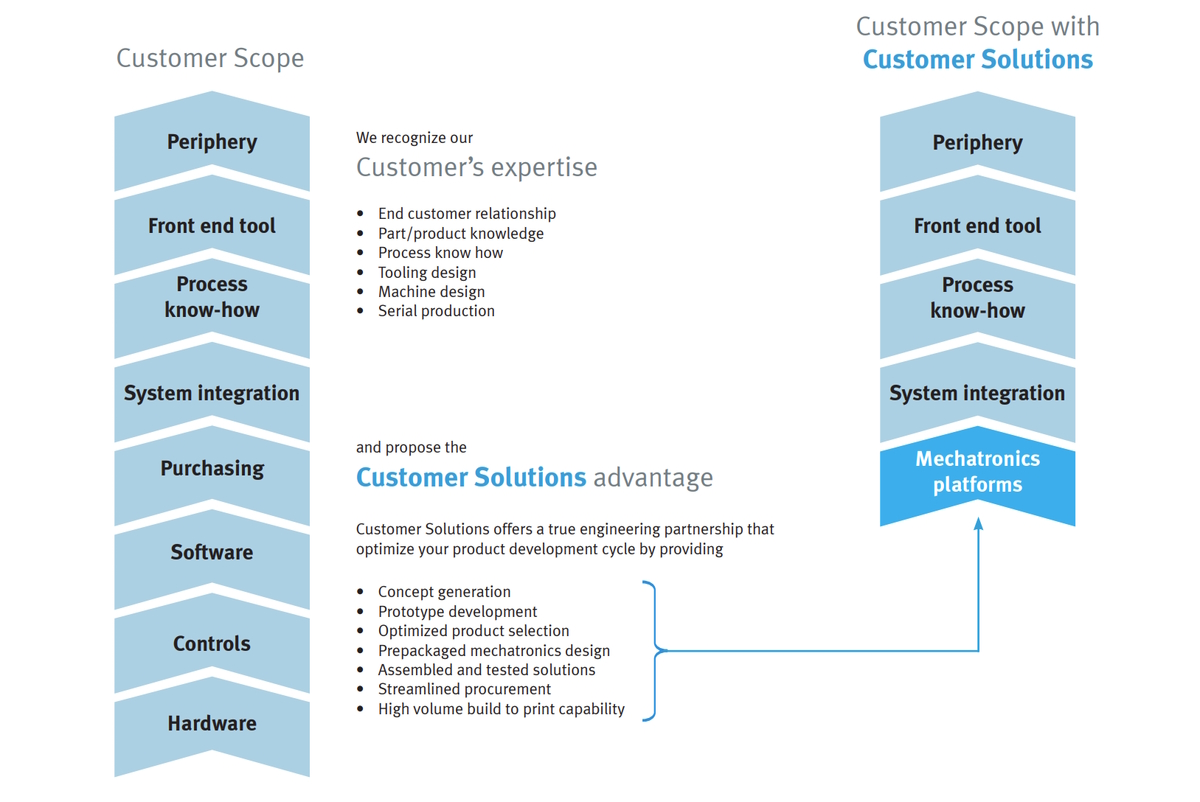 The Festo Customer Solutions department — consisting of engineers, project managers and logistics specialists — specializes in custom products, value-add solutions and mechatronics systems with the mission to make you more productive. In case you're not familiar with this department, here's a quick rundown of our Customer Solutions capabilities, along with the benefits you can expect:
Who Are We?
Using our expertise in prototyping, as well as our high-volume and build-to-print capabilities, the Festo Customer Solutions team is dedicated to turning your automation ideas into automation solutions. And we're prepared to support you through every step of the way. For example, we can optimize your product development cycle, from concept to commissioning, enabling you to shorten your time to market and stay competitive.
What Do We Do?
Our Customer Solutions core competencies include product development, handling systems, control systems and process automation. Here's a brief overview of our technical offering and services:
Pre-assembled solutions. Our solutions offering includes pneumatic cylinders, control panels, control cabinets, solutions for process automation, valve assemblies and much more. We can provide individual pneumatic and electric components that are pre-assembled or pre-packed in one module. You can combine standard or kitted components for ease of use and logistical reasons, reducing your production time and costs.
Custom solutions. In addition to our standard components, we can customize and build electro-mechanical and pneumatic components and systems, such as motor mounting kits, manifolds, integrated solutions and cylinder-valve combinations. You have a wide variety of options to choose from, including operating environment, special functions, size, weight, configuration and labeling.
Handling systems. By combining different technologies, such as electrical, pneumatics and servo-pneumatic systems, we can deliver a full range of 2D and 3D solutions — all designed according to your requirements.
For a standard system, you can use our Handling Guide Online to specify the right system quickly and easily in three steps. Or, if you have special technical requirements, you can send your application data directly to our experts with the click of a button.
Festo Motion Control Package (FMCP). These packages consist of pre-programmed gantry solutions for 1D, 2D, 3D, T and H configurations. They feature standardized function blocks, simplifying your controller architecture and saving you significant programming effort.
Engineering services. We're ready to provide you with engineering services at any stage of your project — including pre-sales consulting, product or process application development, commissioning and integration.
Get Started With the Customer Solutions Team
With engineering centers in 55 countries, research and development centers in eight markets and over 1,000 dedicated engineering staff around the world, we're ready to speed up your automation and take your productivity to the next level.
To learn more about our Customer Solutions team, check out our brochure.