Workforce Development at Festo: The Future Is Bright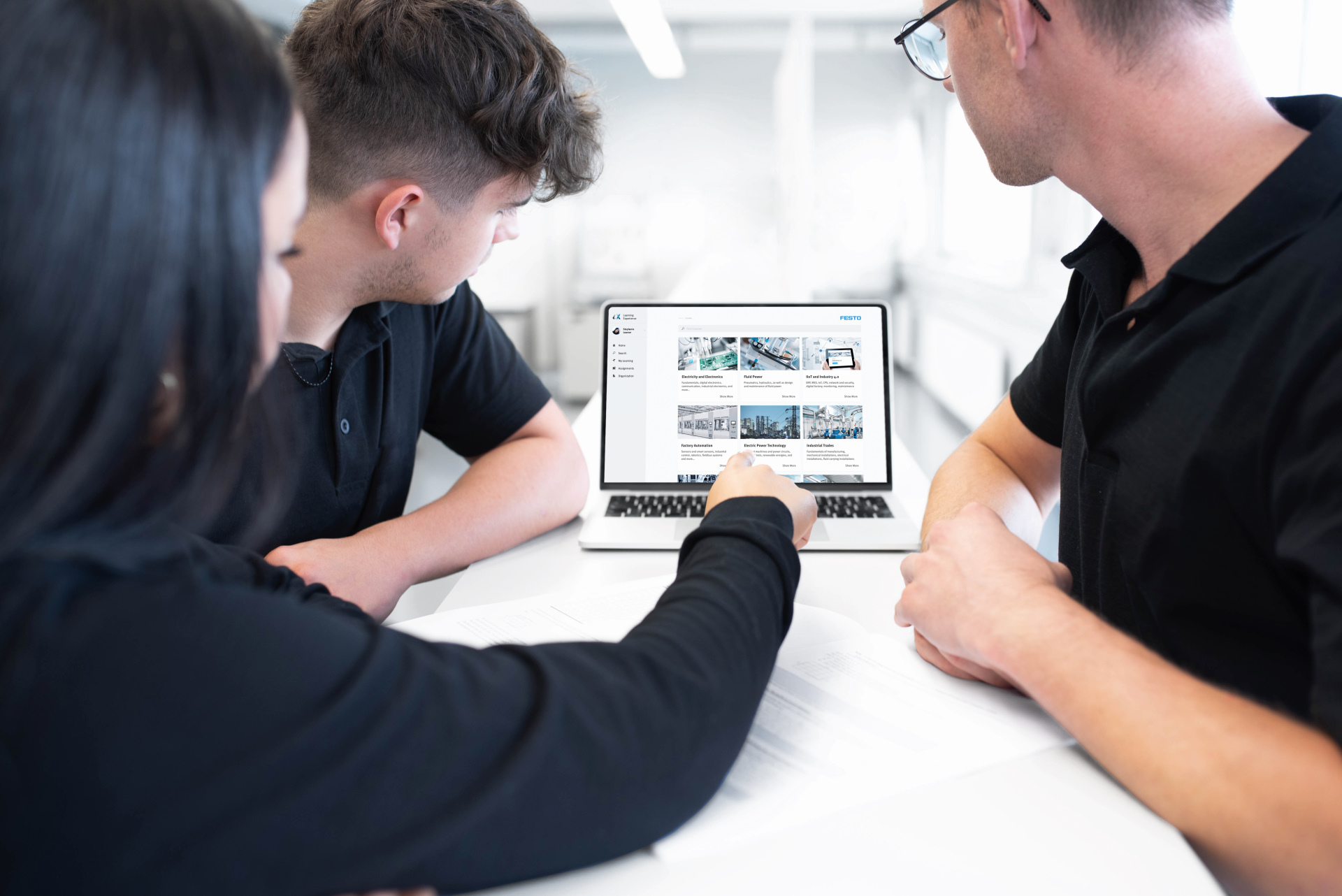 For industrial workforce pros, post-secondary education and job training starts here.
At Festo, the more we think about our future as a global automation company, the more we understand how our future success is inextricably tied to student success. We believe that employers must find ways to encourage and foster lifelong learning. For us, this has led to creating affordable forms of high-quality, industrial education and on-the-job training programs within our Didactic team, and with a number of valued partners.
It's inspiring to see a growing number of employers, government officials and educators coming together to implement and grow promising CTE pathways that help close the STEM skills gap and boost employability, and we're honored to play a small part in that development.
Below is just a snapshot of how we're working together to prepare the future workforce, now.
Festo LX, the digital learning portal for technical education, provides teachers, trainers and students with volumes of learning content thoughtfully curated and approved by global automation experts and expanded by teachers nationwide. These flexible and highly customizable online courses offer industry-aligned education and specialized qualifications for Industry 4.0 / Advanced Manufacturing careers.
Watch the video: How it works | Festo Learning Experience
Sign up for free account: Create Your Account | Festo Learning Experience
The Mechatronics Apprenticeship Program in Mason, Ohio is home to Festo's award-winning Mechatronics Apprenticeship Program, which first launched at the Festo Learning Center in 2016. In 2020, the program earned the Best in Ohio Business Award in the Workforce Development Program category. Partners include Art Metal Group, Clippard Instruments, MQ Automation, Nestlé and Space Coast Consortium Apprenticeship Program (SCCAP).
The Festo NC3 Certification Program (FI4.0CP) was developed by industry experts and educators to deliver in-depth, real-world training that ensures both students and instructors will have the qualifying job skills they need. FI4.0CP offers three levels of certification and can be easily integrated with existing certificate, associate and bachelor's degree programs.
The National Institute for Metalworking Skills (NIMS) and Festo Didactic have been working together to establish industry-recognized skills standards, and ultimately credentials, for jobs related to Industry 4.0. During the development of the new Industry 4.0 skills standards, NIMS will ascertain the credentials in its existing programs that support the various Industry 4.0 functions and target new credentials for development. The training outcome is to provide employees in or entering a manufacturing workplace with an understanding of Industry 4.0 concepts and impart certifiable skills as companies increasingly adopt automation and data gathering and management functions in their manufacturing operations.
The Association for Packaging and Processing Technologies (PMMI) and Festo Didactic joined forces in 2022 to provide PMMI members and education partners with advanced technical education and hands-on training aligned with the industry's highest standards. Together, the two organizations are bringing highly customizable training options to packaging and processing professionals.
SICK Safety and Festo Didactic also partnered in 2022 to release new curriculum for robot safety awareness. The new educational program will focus on robot safety in addition to a rich data experience geared towards closing the skills gap in advanced manufacturing.
As a WorldSkills Global Industry Partner (GIP), Festo supports the competition with its long-term industry experience, along with providing technical equipment for students to compete in the disciplines of Mechatronics and Water Technology. Festo was the first GIP of WorldSkills back in 1991. Global Industry Partners play a key role in the collaboration between industry, education, government and political decision makers. Their common goal is to improve training and recognition for qualified, skilled workers around the globe.
Testimonials
"Festo's CP Lab looks exactly like what I saw in industry. If I had been exposed to and trained on equipment like that, I would have been lightyears ahead of the curve. With the Festo trainer, a student can get hands-on experience with how systems work, how to troubleshoot real-life obstacles and feel less intimidated in industry." — Amanda Saam, Lead Instructor, Owensboro Community and Technical College
"P&HCC's partnerships with Festo Didactic and NC3 have played an important role in the economic renaissance occurring within our service region. This work has been central in our community's ability to land recent major economic development projects. This expanded partnership between Patrick & Henry Community College and Festo demonstrates the continued commitment our institution has in meeting our region's workforce needs. Career and technical education programs have never been in higher demand, and thanks to Festo and NC3, P&HCC has become a national leader in industry certifications helping to fill these essential pipelines." — Greg Hodges, President of Patrick & Henry Community College
"The equipment we have here is impressive and the students get excited. When they come to the program, they're able to see the cyber-physical factory from Festo, the robotics, the storage and retrieval systems, and the PLCs. They're seeing these high-tech systems and the real-world need for what they do, and that excites them even at a later age — 40, 50 years old. They go, 'I can do this,' and yes, you just step to it, and you can do this." — Randy Walden, Advanced Manufacturing Instructor, Truckee Meadows Community College
"There's a level of excitement from people when they see what the Festo Smart Factory floor can do. You see that spark go off, and people are curious to know if they can interact with the robots and high-tech operating systems too. It starts the conversation about modern-day manufacturing and the exciting opportunities that exist in the industry today." — Sheri Plain, Director of Workforce Services, Owensboro Community and Technical College